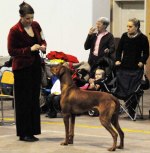 Int. All breed Show in Malmö
Judge Eva Jönsson
Breed entry: +80
This show always gives me mixed feelings. Usually one have to stand in line before enetring the halls, the ringa are usually small and placed badly. Finally it is usually tons of people so you can´t move around at all.
This year there where a line outside but inside the ring where HUGE and not that many people. So it was actually quite pleasent.
I travelled with Caroline and the dogs where "Eros", "Nike" and Nikes halfsister "Gozzip".
Saturday night where spent at Cornelia & Fredriks woundeful, extreamly close to the beach house and we enjoyed some take out food.
Sunday and show day! I feelt a bit slow and not on my toes since we did not know what this judge liked! Also it has been some time since the last show and a lot of stuff going on in my work- & private life.
First up where me and "Nikes" half brother "Dino". A very sweet, tall and typical ganglig youngster with lots of angulation to keep track of. We managed to communicate in a good way and even the judge with her measuring stick where ok. We placed third very pleased with the performance. (Dino and I in photo upper right corner)
Second up where "Eros" and Caroline in champion class. They where placed fourth with no CQ.... I thought he was worth his champion quality but this judeg held on tight to her CQ´s!
After some waiting Nike & I had our turn and the hopes where so low! Nike was not in her best shape and from what the judge had put up earlier that day.... BUT Nike ran with energy and we won the championclass with CQ! Suddenly....Nervous! Moments later best bitch competition and we where placed second! So pleased with that!!!
Huge congratulations to Ridgebow´s Odara of Zazazela and owner Pernilla Hallström who won BOB and BIG 2! Alos congrats to Kennel Ridgebow who won 5 class wins over the day!
Kommentera gärna inlägget: