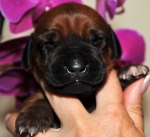 Late news! Nike had her litter may 28th!
Everything went well and there where 10 puppies, 3 males and 7 bitches. 1 bitch with 3 crowns and 1 bitch with offset ridge. Otherwise no faults found!
They are all doing fine, growing ina steady pase and Nike is a super mom tending to her little ones!
Photo of Miss Green whom entered the world last of her sibblings!
Kommentera gärna inlägget: