Eskilstuna International All breed Show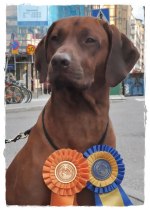 What a day! I think our corner had a lucky charm or something hidden!!!
Our day started with "Elmer" Rex Ventors Oakley winning open class with CK, continuing to place third in best dog and thus winning his first CAC! Congratulations to mum Emelie!
"Eros" Elangeni Braveheart Rules placed second in champion class with CK but no placement in Best dog! :(
"Lolita" Eyes Catcher Out of Africa was up next and behaved well but a bit chubby I belive. 5th in junior with HP.
"Nike" Ch. African Bravehearts Fourever Yours won champion class, won Best bitch, BOB and later on Best In Group 4! BOS where veteran Tarujen Mabaru! Congratulations Mia to a superfit Maru!!
"Navy" Ch. Rijstone Aussie Rules had 4 off his offspring present so we coul at last compete with a progeny group! We recived honours price an later on BIS 3! Thank you Evergraces Brilliant Balder, Evergraces Brilliant Beyla, Evergraces Brilliant Bonzo with familys for staying!
Also congrats to Evergraces Brilliant Beyla for winning her class and 5th best Bitch! Evergraces Brilliant Bonzo won hunting class with CK!
One of my favourites "Gossip" African Bravehearts Gozip Girl won her class with CK! Also her brother Dino" African Bravehearts Now I´m Da Boz won his class with CK!
Thanks to all for a nice day!!!!
Kommentera gärna inlägget: