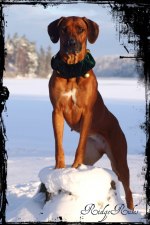 We are so proud!
After this years last show, "Stora Stockholm", it was final that "Nike" and "Eros" placed second at the Top Winning Ridgeback list for males and bitches in Sweden!
For "Eros" it was the second year in a row and he is not 3 years old yet!
"Nike" has placed as second among the bitches in 2008, 2009 and 2010! And this year she managed to squezze in litter as well :)
Congratulations to Top winning overall; Ridgebows Scilla Of Thanzi, owner Bitte & Sven Stjärnfeldt and handlers Ulrika & Jessica!
Kommentera gärna inlägget: