(Kinyemi Fora C'Huluku x Rex Ventors Iyeliz)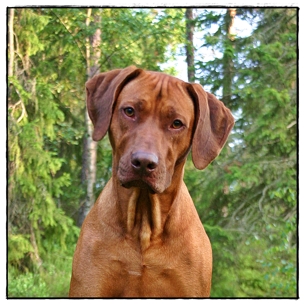 DOB: 2007-05-23

Reg.no: S45017/2007

Height: 68 cm
Weight: 40 kg

HD: A
ED: 0

Teeth: Correct sissorbite
Mentality test: Gunshoot proof.

Breeder: Veronica Thorén, Rex Ventors Kennel
Owner: Maria Kierkegaard Lundström & Emelie Kierkegaard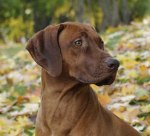 Elmer is a very typical livernose RR. Stubborn with lots of attitude and "what ya want" when he is not up to doing something. But he is also the one in our pack that demands aboslut closeness when he crawls up in your lap and poushes his head next to your chin. How can you resist that?!
He lives with my sister Emelie and goes with her to work. They spend their day in a clothing shop and Elmer has his spot on a counh by the door. Some people come in just to see Elmer....
Elmer & Emelie are very active togehter and enjoy running, biking & swimming.
Conformationwise Elmer has been needing his time to meature. Now, soon, three years old he has gained mass in his cheast and overall. Elegant, balanced with superside movements, a lovely head and super colour are some comments he has gotten in his critiques.
Rex Ventors Oakley

Kinyemi Fora C'huluku

ATCH CSSPCH HUCH INTUCH VDHCH
Chipangali's Kadani

INTUCH MCCH
Tandiwe Merigal's Mad Gamble

ATCH INTUCH
Agnes Visconte De Simon

DKUCH SUCH
Kinyemi Anzi A'fora

FINUCH GBCH INTUCH NORDUCH NORDV-99 VDHCH
Aakemba King Astor Gi'fumo

Zumeli's Anzika

NORDUCH NV-04
Rex Ventors Iyeliz

NORDV-02 NUCH
Masithela's Famous Akinzo By Woody

CACH INTUCH USCH
Wetu Of Kalahari

DKUCH NORDV-98 NUCH NV-00
Ami Sariba

FINV-98-99-00 INTUCH NORDUCH NV-98 S VCH SV-97
Bearstar Diamond Willow

AUCH
Bearstar Ko

AUCH
Bearstar Chilean Willow