(Kargnieulan Hugo A Gogo X Rijstone Mtilda OSamara)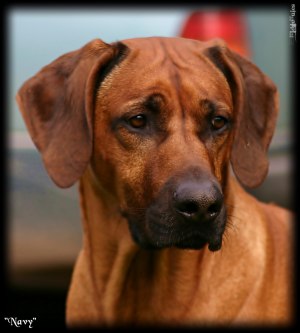 DOB: 2004-02-26
Reg.no: S46420/2004
Height: 73 cm
Weight: 48 kg
HD: B/A
ED: 0/0
Juvenile myoclonic epilepsy: Not carrier.
Teeth: Correct sissorbite, all teeth present.
Mentality test: Gunshoot proof.
Breeder: Vicki Stoneham,
Rijstone Kennel


We have frozen semen available for suitable bitches!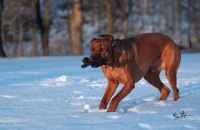 Our sweet, sweet positive boy!
Navy is an import from Australia, kennel Rijstone
He arrived in 2004 just after midsummers and he was a tall puppy with dark eyes, huge ears and a super positive attitude!
I will never forget the first time he laid at our bed after that looooong flight....
Navy grew to be a tall yet elegant dog with a super expression and head. Many people has over the years fallen for his temperament and wish to be hughed, but underneath that is a very strong mind! When he wants to go or do something he will!
Navy favourite thing to do is tracking and we try to do that as often as possible. Another thing is showing! Especially outdoors and with nice bitches around :) Navy usually places well due to his balanced and good proportioned conformation. Top memory is winning the "Best In Show Specialty" at the Swedish National RR Specialty Show in 2006!
Navy has 6 litters in Sweden, Germany, Norway and France with mostly the same temperament and especially his type of head & expression!
Now Navy is now retired and enjoys behing home with the family.
"BISS 06" Best in Show at the National Swedish Specialty 2006.
Winner of huge open class at World Winner Show in Poland 2007, CAC winner.
Several BOB and BIG placements.