FinJW-17 SE UCH
RidgeRules Shake a tail feather
(Bawabu Diabo Dinizulu x Eyes Cather Out Of Africa)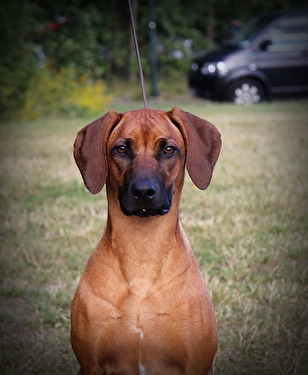 DOB: 2016-12-05
Height: Approx 64 cm
Weight: Approx 35 kg
HD: A/B
ED: 0
EOAD: Clear by parentage
JME: Clear by parentage
DM: Clear by parentage
D-locus: D/D
Ridgegen: R/r
Correct bite and all teeth present.
Mentality test/BPH: Yes.

Breeder: Maria & Robert Lundström
Living on breeders terms with Matilda Gusfavsson/Stockholm

Merits:
Winner of two CAC from junior class.
Finnish Junior Winner 2017
2nd Best Bitch at BISS 2018

More info about "Allies"
sibblings HERE.

More pics of "Allie" at her album on Facebook HERE.
"Laste

Dance"

Bawabu Diabo Dinizuli
Chadari Chiremba Balancing Rock
Kisangani Dark Red Regent
Eilack Tshombe
Kisangani African Red Ruby
Chadari Boshasa of Bulwayo
Nambala Qam Of Savannah Winds
Chakira Von Der Kalahari W
Bawabu Changuliwa Chaga
Kodust RV
Touch Of Chili
Bearstar Doulen Ko ET
Riginal Hot N Dusty
Bawabu Tekeleza Taraja
Tolasanas Sitanka
Bawabu Mafuku Matunda

Eyes Catcher Out Of Africa

Rijstone Aussie Rules
Kargnieulan Hugo A Gogo
Elangeni Elvis
Kargnieulan Montana
Rijstone Mtilda
O Samara
Shangara´s Mukuru Of Samara
Rijstone Buyani
Victoria Falls Out Of Africa
Rollings Jungle Baloo
Applegarth Trespasser
Rollings Wheatenridge Tula
Ouanga Out Of Africa
Zumelis Ajabu
Maramba De Teufelsort