RidgeRules Treasured La Belle
(SVCH Prästens LeRoy Light Of Argos
X
Eyes Catcher Out Of Africa)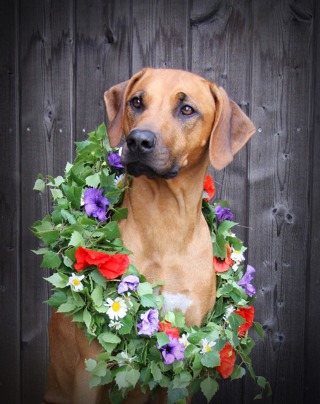 2013.06.24 - 2019.01.22
Height: 66 cm
Weight: 35 kg

HD: A/A
ED: 0/0

Correct bite, all teeth present.
EOAD: High conficence clear.
Juvenile myoclonic epilepsy: Not carrier.

"Belle".... What can I say?! She was special from the beginning with a very strong mind of her own.
The combo of a balanced confirmation, stubborn mentality, lovely head type and details like a super ridge and good paws, did not make the desision to hard. Also the fact that the father, "Le Roy", passed before the litter was born makes this a special litter! Offcourse I find the pedigree where we combine many lovely and excellent ridgebacks also the desision easier.

R.I.P 2019-01-22
Belle passed after almost a week of sickness. The fatale reason was that her kidneys stopped functioning. Her body had been sent to do an autopsy to try and find out the reason behind the kidney failure.

She is deeply missed!