SE W-14 C.i.b fi LT SE NO UCH
RidgeRules Show´n Tell

(World Winner 2013 world winner 2014 European Winner 2012
Multi Ch. Faira Arif Kamilifu
X
Multi Ch Vice WW-11
African Bravehearts Fourever Yours)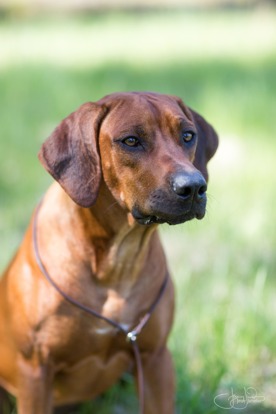 D.O.B 2012.10.01
Reg No: SE58682/2012

Height: 65 cm
Weight: 38 kg
HD: A/A
ED: 0/0
Dental status: Correct bite, all teeth present.
EOAD: High confidence clear
DM: N/N, not carrier.
Juvenile myoclonic epilepsy: Carrier**
BPH: Yes.

Merits:
*Internationell champ - C.I.B
*Swedish, Finnish & Norwegian champion.
*BOB and BOG placement.
*BOS & CAC at Norwegian National Specialty Show 2014.
*BOB Swedish Winners Show 2014
*No 2 Top Winning RR Bitch 2014! (No 3 overall)

** Needs to be retested when test is commercial availble.
Update jan 2018
Due to conflicts between Esther & her sis Hera we had to make the tough desicion to find her a new home.
She is now living in ängelholm with Jan & Bodil at Kennel Lionridges and having the best life!
"Esther" RidgeRules show´n tell
No 2 Top Winning RR Bitch in Sweden 2014!
Time sure flies! "Esther" is already a champion and I am so proud that she has placed as No 2 and No 3 overall at Swedens Top Winning RR list for bitches! Only beaten by sis "Hera!
"Esther" is from our first litter born in october 2012. Her mom was our sweet "Nike" whom sadly passed away early spring 2013 due to malignt lymphoma situated in the lympatic nodes.
Her dad is "Arif" - a rocksteady ridgeback living in Moscow, Russia. For the mating Arif came to Stockholm so we all had a super time getting to know him more than I did when visiting him in Moscow over the weekend.

Esther loves cuddles and gladly sleeps on uncle Navys back since she was a puppy.
But she also has a lot of things going on...like opening doors both going in and out and running like a nutter in the woods.

It is a delight to have her in our family and we so hope she will keep developing the way she does and stay crazy and curious.