Born 7th of november 2020
9 puppies
5 girls, 4 boys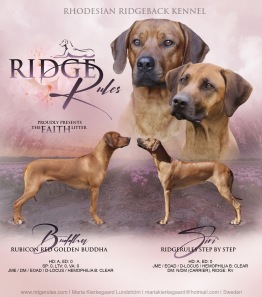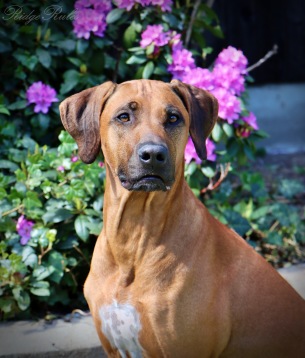 Ridgerules
step by step
"Siri"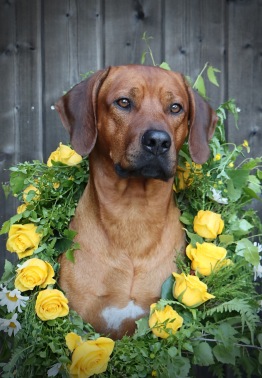 rubicon red
golden buddha
"Buddha"
DOB: 2017-04-29
Reg. no: SE26139/2017

Height: Approx 69 cm
Weight: 40 kg
HD: A
ED: 0


EOAD: High Confidence Clear
JME: Clear
DM: N/DM (Carrier)
Hemophilia B (Factor IX): Clear
D-locus: D/D
Liver: Not carrying the livernose gen.
Ridgegen: R/r


Dental status: Correct bite and all teeth present.
BPH (Behaviour & personality Assessement): Yes.
Here is a link to the protocoll - only in Swedish.

Merits: SE VCH




Breeder: Maria & Robert Lundström
Living on breeders terms with Susanne Bermark/Stockholm


More info about "Siris" sibblings HERE.
More pics of "Siri" at her album on Facebook HERE.
DOB: 2018-02-25
Reg.no: SE40588/2018

Height: Approx 68 cm
Weight: 45 kg
HD: A
ED: 0
SP: 0, LTV: 0, VA: 0

EOAD: High confidence clear.
JME: Clear* **
DM: Clear* **
Hemophilia B: Clear* **
D-Locus/Dilute: D/D - not carrier
Ridgegen R/R

*Trough parantege.
** Tested Laboklin June 2020

Dental Status: Correct bite. Missing 1 P1.
BPH (Behaviour & personality Assessement): Yes
Here is a link to the protocoll - only in Swedish.

Merits: He has won several CAC`S as well as CACIBS but due to Covid19 not been able to achieve the championship yet.5th Top Winning RR male 2019 but missed half the seson due to a toe fracture.

Breeder: MIchaela & Björn Jacobi/Rubicon Red Kennel
Breeding rights: RidgeRules & Rex Ventors


Here is a link to his breeders webbsite: HERE
More pics of "Buddha" in his album at Facebook HERE.
"Siri" is the great granddaughter to our autralian import "Navy" Ristone Aussie Rules and she possesses so many of his qualities as well as what her grandmother "Lolita" and mother"Belle" contibuted with.
Her father "Taz" Rex Ventors Taz comes from Rex Ventors T-litter that contained of so many highquality individuals that has made their mark around Europe in breeding programmes. He is a gorgeous dog with super qualities!
HERE is a link to Rex Ventors T-litter album on FB.

"Siri" is easygoing, fun, energic and affecionate. She will give kisses as well at put your nosetip or chin in the corner of her mouth and give a little chew... Tall on her legs just like her mother with a lovely head and expression. Sound and balanced construction.

When we had the opportunity to add "Buddha" to our breeding program I was extremly happy! I hade followed his mother since she was a puppy and also his father and grandfather. From what I´ve learned and seen he is much like his father both in temperament as well as in conformation. For me "Buddha" has the typ of body and balance that I prefer in a ridgeback. No need to stack and poke to get those angulations in place - they are just there.

"Buddha" is just a buddha :) I am so glad to have him as part of our pack in our home. He is a big teddybear, a true joy to have around. He is sure to give his love to everyone that is around including the girls in the pack. Outdoors he has high energy and he is patrulling our yard several times a day. My car is, exept for our bed, his favourite spot.

"Siris" sister called "Aska" had her first litter under the prefix of Rex Ventor. Please visit HERE for more info and on Facebook HERE.

Thank you Susanne for giving Siri the best life and letting use her in our breeding!

We hope for lovely family companions that most of all want to be around and have fun!

If you have questions in regards of this combination, please reach out to us via email/phone etc.
0% inbreeding in 5 generations.