born 9th of april 2018
4 boys (1 ridgeless)
6 girls (2 ridgeless)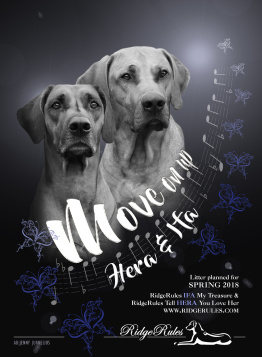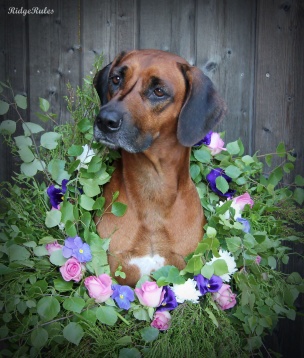 Ridgerules
tell hera you love her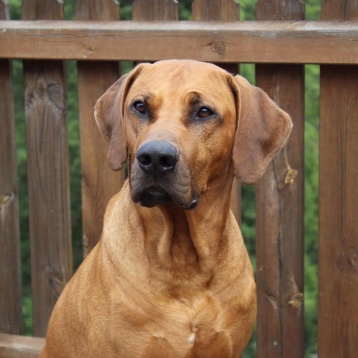 ridgerules
ifa my treasure
Born: 2012-10-01
Height: 66 cm
Weight: 37 kg
HD: A
ED: 0
Correct bite, missing 1 P1.
EOAD: High Confidence not carrier
JME: N/N Clear*
BPH: Yes.
Titles: C.I.B FIN W-17 Helsinki W-17 SW-15 DKJV-13 LT SE FI DK UCH
Breeder: RidgeRules/Maria & Robert Lundström
Owners: Robert Lundström & Maria Kierkegaard Lundström

Read more about "Hera" HERE.
Read more about "Heras" sibblings HERE.
*Re-tested via Laboklin nov 2017.
Born: 213-06-24
Height: 69 cm
Weight: 46 kg
HD: B
ED: 0
Correct bite and all teeth present.
EOAD: Carrier
JME: N/N Clear
DM: N/N free
Hemophilia B: X(N)/Y free, not carrier
B-locus: B/B do not carry liver
D-locus: D/D not carrier
BPH: YES
MT: YES
Titles: C.I.B NORD SE FI DK LT EE LV CH BALT CH NORD JV-14 SE VCH
Owners: Emelie & Sebastian Pisano

Read more about "Ifa" at his own site HERE.
Read about "Ifas" sibbling HERE.
So time to put together our two families/bloodlines for the first time - super exited!

"Hera" was born in our first litter back in 2012 - Read more about them HERE. She is a strong girl with lots of attitude and temperament! Also strong in body and a lookalike to her mother "Nike" who produced 2 litters with a total of 17 puppies - read more about her HERE.
"Hera" has had one litter prior to this one in 2015 - The Humble For The Future Litter HERE. From that combo we keept "Felicia" in our home - HERE is info about her.

"Ifa" comes from our first litter after "Lolita" and his father was the happy and sweet "Leroy" - Read more about this combo HERE. From this combo we keept "Belle" in our home, whom in 2017 produced a lovely litter - Info HERE.
"Navy" is the grandfather of "Ifa" and lived with us his whole life - info HERE

Italy 2016 a litter sired by "fa" was born at Kennel Harmkis Wisdom. I really liked the type, ways and construction of these puppies and also had the pleasure of visiting them together with Emelie Pisano (owner of "Ifa). You can look at pictures of these puppies HERE and HERE.
"Ifa" is a happy boy with an elegant outline, balance and super movements!

I belive these two will complement eachother in their ways,temperament as well as in construction!
We have owned "Ifas" grandfather, mother and his owners has had his father and grandfather plus "Heras" mother being part of our kennel gives a lot of access to detailed knowledge. This makes up a combo of a lot of dogs known by us IRL for several generations and offcourse having bred them both we know all details about pros- and cones!

We hope for lovely family companions that most of all want to be around and have fun!

0% inbreeding in 5 generations.
RidgeRules
Ifa My Treasure
Prästens
Le Roy Light
Of Argos
Dea Decora`s Argos
Krismidt`s Dancing Duke
Afrikanas Akemba
Djungelkatten´s Windflower To Priest
Ukukhanya Scout
The Red Baron
Zumeli`s Ashiki
Eyes Catcher
Out Of Africa
Rijstone Aussie Rules
Kargnieulan
Hugo A Gogo
Rijstone Mtilda O Samara
Victoria Falls Out Of Africa
Rollings Jungle Baloo
Ouanga Out Of Africa
RidgeRules Tell Hera You Love Her
Faira Arif Kamilifu

Ascot Alta Mirano
Amal Silesan Harta
Agnieszka Viva Christo
Chitonga Faira
Ceasar V D Jack Bulls Hoeve
Vizara Jodi Jinga
African Bravehearts Fourever Yours
Veldtkammer
Get Ofa
My Cloud
Ndege Shaka Of Eilack
Veldtkammer Hope And Pray
Shona-The -African-Spirit-Of-Ishtar

Remus

Shangani Patania-Dunia