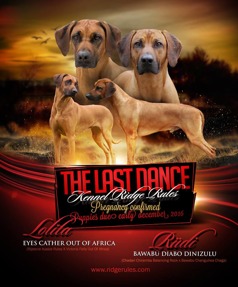 Valpar föddes måndag den 5 decmeber!
Hela 12 st fick vi :)

puppies are here!
They arrived monday the 5th of december!
Our "Lolita" has had two litters so far with the last one containing only 3 wild ones, so we decided to mate her one last time. After both her litters Lolita has recovered quickly after 11 resp 3 puppies. The puppies "Lolita" have produced are so far healthy and easy going family members. You can read more about her prior litters HERE and HERE.

The sire we have chosen is lovely "Rüdi" aka Bawabu Diabo Dinizulu. He was born, raised and resides in Finland with the Lilja family. He lives with an older male ridgeback as well as 2 human kids and mum, dad.
An energetic and positiv dog with a lot of love in him! He has a stunning pedigree filled with high qualitie dogs so I am glad that we are able to include him into our breeding program.

The COI is 0,2% for this combination over 5 generations.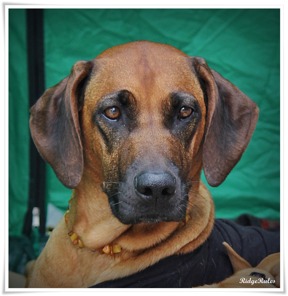 eye catcher ot of africa
"Lolita"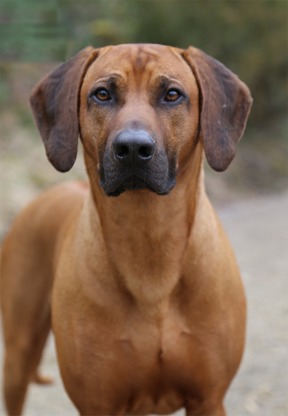 Bawabu Diabo Dinizulu
"Rüdi"
Born: 2009-07-22
Height: 64 cm
Weight: 35 kg
Health
HD: A/A
ED: 0/0
Correct bite and all teeth present.
EOAD: High Confidence not carrier
DM: N/N, not carrier
MH: Yes.
Breeder: Christian Jouanchicot,
Kennel Out of Africa
Owners: Robert Lundström & Maria Kierkegaard Lundström

Merits: Norwegian CAC.

Read more about "Lolita" HERE.
Read more about "Lolitas" father Ch Rijstone Aussie Rules HERE.
Read more about Lolitas daughter "Belle" - RidgeRules Treasured La Belle HERE.
Born: 2012-12-17
Height: 66cm
Weight: 42kg
Health
HD: B/A
ED: 0/0
Spine: LTV1, VA0, Spondylosis clear
DM: free by parentage
Myoclonic epilepsy: non-carrier
Correct bite and all teeth present.
MH: Yes in Finland.
Breeding examination approved
Link to all info about "Rudi" at the Finnish Kennel Club.

Breeder: Satu Laakso, Bawabu Kennels
Owner: Outi & Rami Lilja

Merits:
FI, SE & LT CH
Nordic JW-13, Finnish JW-13
Junior of the Year 2014 (from all breeds)
BIS Junior Winner
#2 Showridgeback in Finland 2015
Crufts qualification winner 2016 (for Crufts 2017)

Read more about "Rüdi" at his own site HERE.
Visit "Rüdi"´s breeder Kennel Bawabu HERE.
More photos of "Rüdi" HERE, and his relatives HERE.
Below you can read "Rüdi´s" owners as well as breeders comments and hopes for this combination!

Thoughts about the Last Dance -litter:
From Rüdi I hope the puppies will receive his lovely temperament. The easy-going, always happy nature that faces the world with a wagging tail but also having that true ridgeback nature in place. I think Lolita and Rüdi should produce good bodies with lovely proportions. Pups that are correct in size and have lovely heads with correct expression. Very excited about this litter.
//Outi Lilja, owner of Rüdi

It's a very interesting combination. The combination brings variation to the lines so from a breeder's point of view it's an interesting move. Very good step for future breeding. I think the dogs compensate each other well both in conformation and character. I would expect lovely, sound bodies, correct sizes and beautiful heads. Good clear colors and good potential for hobbies / working ridgebacks.
//Satu Laakso, breeder of Rüdi, Kennel Bawabu
"Laste

Dance"

Bawabu Diabo Dinizuli
Chadari Chiremba Balancing Rock
Kisangani Dark Red Regent
Eilack Tshombe
Kisangani African Red Ruby
Chadari Boshasa of Bulwayo
Nambala Qam Of Savannah Winds
Chakira Von Der Kalahari W
Bawabu Changuliwa Chaga
Kodust RV
Touch Of Chili
Bearstar Doulen Ko ET
Riginal Hot N Dusty
Bawabu Tekeleza Taraja
Tolasanas Sitanka
Bawabu Mafuku Matunda

Eyes Catcher Out Of Africa

Rijstone Aussie Rules
Kargnieulan Hugo A Gogo
Elangeni Elvis
Kargnieulan Montana
Rijstone Mtilda
O Samara
Shangara´s Mukuru Of Samara
Rijstone Buyani
Victoria Falls Out Of Africa
Rollings Jungle Baloo
Applegarth Trespasser
Rollings Wheatenridge Tula
Ouanga Out Of Africa
Zumelis Ajabu
Maramba De Teufelsort