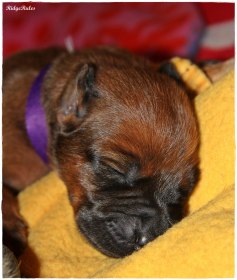 We have puppies!
The first litter under our prefix RidgeRules has been born!
On october 1:st Nike gave birth to 7 lovely babies.
3 boys
4 girls
All with ridge and so far they look correct. No DS or kinked tails found either.
We had a rough start because Nike got twisted stomach or blot late monday night. She was rushe to the 24-hour open animal hospital and undervent emergency surgery. They where able to save her life and came home the next day.
She is now recovering and taking lovely vare of her little ones!
2012-07-17
"Nike" was only entered to 6 shows this year due to lack of time and now we wait for her heat to start.
But these 6 shows has given her the following results;
Int. All breeds Show Vallentuna - Exc, CK, CACIB & BOS
Int. All breeds Show Österbybruk - Exc, CK, Cacib & BOB
Nat. All breeds Show Avesta - Exc, CK, 4th Best bitch
SRRS Specialty Show Stockholm - Exc, CK
Nat. All breeds Show Alfta - Exc, CK & BOS
SRRS National Specialty Show Gysinge - Exc, CK