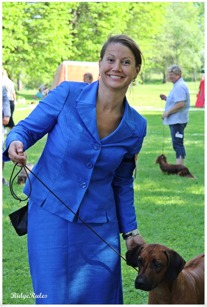 What a year we have had!!!

We are so proud of all our puppies in the "Tell It To The Sky" -litter and "Hidden Treasures"-litter!
Most happy and proud that all are doing well and being healthy together with owners whom give them loads of love!

*BPH for both litters in may and september.
*"Hidden Treasures" 9 of 11 x-rayed with excellent results.
*Active teams in rally-obedience, K9-Nosework, tracking and agility!
*Several Best Breeders Group wins including a BIS 2 at Int. All breeds DS.
*Winner of CAC for dogs & bitches as well as Res.CACIB for "Nox" at WWDS-14.
*BOS at Norwegian National Speciality Show.
*BOB Swedish Winner Show
*Multiple Class wins or placements with CQ from 10 of our puppies in Sweden, Finland, Norway & Netherlands.

*In Finland "Lola" RidgeRules Tell The Tale has won a several BOB/BOS with CAC and we got to meet her in Helsinki at WWDS-14!

*Sky" RidgeRules Tell´s Sky´s The Limit
has sired his first litter as well as receiving excellent at several shows!

*"Arrak" RidgeRules Tell It To The Sky
Has recived excellent at several shows and started in a great way in rally obedience as well tried agility. A great job done by Johanna & Rickard whom took in Arrak early spring 2014!!

*"Dixie" RidgeRules Dixie Chick Story Teller
Winner of several CAC & Res. CAC´s! Also placing 10th on Sweden's Top Winning RR list for bitches!

*"Ifa" RidgeRules Ifa My Treasure
3rd Top Winning RR male in Sweden AND 3rd Top Scoring Tracking RR in Sweden! "Ifa" has also won a whooping 6 CAC´s and a Junior Winner Title! All this from junior class!

*"Nox" RidgeRules Brave Enough To Tell
became champion in Sweden and Finland at his first try! He also won the Res.CACIB at World Winners in Finland - Only beaten by his father "Arif"!

*"Esther" RidgeRules Show´n Tell
Winning several BOB/BOS including Swedish Winner and Norwegian National Specialty Show and becoming Swedish & Norwegian Champ. In the end "Esther" placed as 2nd Top Winning RR Bitch and 3rd overall in Sweden.

*"Hera" RidgeRules Tell Hera You Love Her
Winner of serveral BOB, CAC at World Winners -14 in Finland and Top Winning RR Bitch and 2nd overall in Sweden 2014.

* I also want to mention the mum of the "Hidden Treasures" litter:
"Lolita" Eyes Catcher Out Of Africa who, not being a fan of the dog show scene, has executed in a great way winning Best Movement at Specialty show and several class wins!


THANK YOU ALL & we look forward to new adventures in 2015!!!
"Hera"
RidgeRules Tell hera you love her
Swedens Top winning RR bitch!
no 2 overall!
So proud of my "Hera"!! Like her mum she has a special place in my heart. The look she gave me shortly after she opened her eyes.... Now not even a champion yet she has managed to place as Top Winning RR Bitch!
I am proud and humbe for this and thank you who has supported and cheared for us all year!
"Esther" RidgeRules show´n tell
No 2 Top Winning RR Bitch in Sweden 2014!
Time sure flies! "Esther" is already a champion and I am so proud that she has placed as No 2 and No 3 overall at Swedens Top Winning RR list for bitches! Only beaten by sis "Hera!

Please follow us at Facebook for more frekvent updates!
Click on the ICON below :)