Rijstone Aussie Rules x Kisangani African Red Ruby
Born: 2006-04-28
Litter data: 11 pups, 7+4
Faults: 2 ridgefaults No DS, ridgeless, bite faults or kinked tails.
Pedigree: Bottom of page.
Kisangani Enjenje N'tombi "Peppa"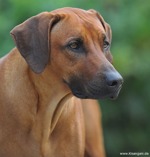 Female
HD: A2
ED: 0/0
OCD: Free
Dilute status: DD
Height: -
Weight: -
MH: -
Merits: Deutscher Champion VDH & several BOB.
Webbsite: Kennel Kisangani
"Peppa" is the mother of Kisanganis F & G litter. More info at their webbsite.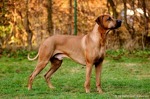 Male
HD: A1
ED: 0/0
OCD: Free
Height: 67,5 cm
Weight: 40 kg
MH: -
Merits: Used in hunting and has several placements in shows and CAC´s
Webbsite: Sango
Male
HD: -
ED: -
Height: -
Weight: -
MH: -
Merits:
Male
HD: -
ED: -
Height: -
Weight: -
MH: -
Merits:
Male
HD: -
ED: -
Height: -
Weight: -
MH: -
Merits:
Male
HD: -
ED: -
Height: -
Weight: -
MH: -
Merits:
Male
HD: -
ED: -
Height: -
Weight: -
MH: -
Merits:
Female
HD: -
ED: -
Height: -
Weight: -
MH: -
Merits:
Male
HD: -
ED: -
Height: -
Weight: -
MH: -
Merits:
Female
HD: -
ED: -
Height: -
Weight: -
MH: -
Merits:
Female
HD: -
ED: -
Height: -
Weight: -
MH: -
Merits:
CH. Rijstone Aussie Rules

CH. Kargnieulan Hugo A Gogo




Ch.Elangeni Elvis





Kargnieulan Montana


CH. Rijstone Mtilda
O Samara


Shangara's Mukuru of Samara




Rijstone Buyani





Kisangani African Red Ruby




Khwezi Achernar




CH. Globes Roving Red Regent




Andra of Khwezi


Mswati's Nala




Besal Golden Rule


CH. Jockular Jinja