I was very nervous....to bring our little french diva to the test. She is so french in the way she reacts...BIG reactions! But sometimes I should put a sock in my mouth and keep quiet because 14,5 months old Lolita did a very good job! Bold, curious and calm except for leaves falling etc. A would prefer more courage and signs of "anger" but she is still young.
Thank you all for a nice day in the cold!
Visa hela inlägget »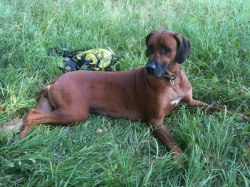 Mats & Caroline took a road trip to the south of Frnace to participate in the French T.N.A (Test of Natural Ability) Your dog need to pass this test in order to become French show champion. "Nike" and "Eros" where entered and I stayed at home....waiting.....But they both did very well and passed the test!!!!
Thank you the Graflund´s for taking the time for this long trip!!!
Photos will come!
Visa hela inlägget »